The United States is calling for peaceful and credible elections in the Democratic Republic of Congo, where campaigns for next month's polls begin Friday.
In a statement Wednesday, State Department spokeswoman Heather Nauert says the December 23 elections give the DRC "a historic opportunity" to conduct a peaceful and democratic transfer of power.A statement by Spokesperson Heather Nauert on U.S. Calls for Credible Elections in Democratic Republic of the Congo.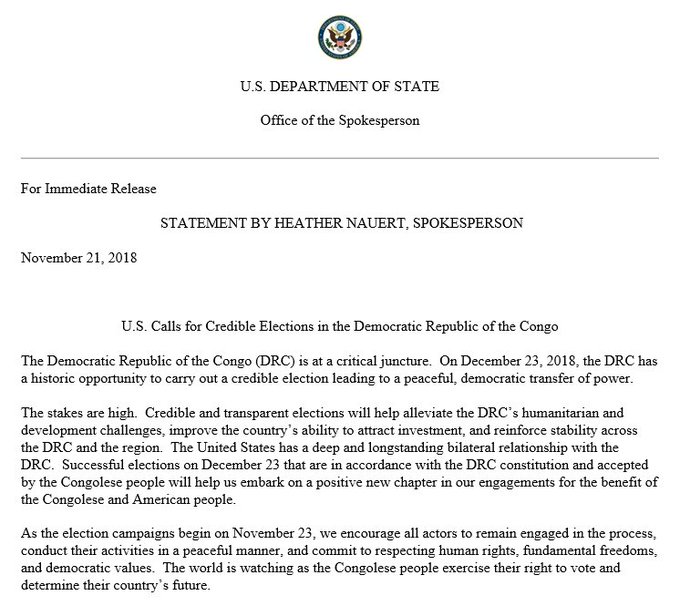 As the #DRC election campaigns begin, we encourage all actors to remain engaged, conduct activities peacefully, and commit to respecting human rights, fundamental freedoms, and democratic values. The world is watching as the Congolese people determine their country's future.
131 people are talking about thisTwitter Ads info and privacy
She suggested a credible vote will also help Congo alleviate its humanitarian crisis, attract foreign investment, and stabilize central Africa.
The elections were originally due to take place in 2016, but were delayed as President Joseph Kabila refused to leave office at the end of his mandate.
Kabila, who has ruled the DRC since 2001, is now stepping aside and has endorsed a former interior minister, Emmanuel Ramazani Shadary, to be his successor.
Congolese authorities have blocked several opposition leaders from running for president, most prominently former vice president Jean-Pierre Bemba.
Opposition parties agreed to unite behind a single candidate for the election, businessman Martin Fayulu. But two opposition leaders, Felix Tshisekedi and Vital Kamerhe, have since pulled out of the agreement.
Source: https://www.voanews.com/a/us-calls-for-credible-elections-in-democratic-republic-congo/4668207.html